This stuff is my super juice. I love it to no end.  No its not chemical free, which is what I push for when it comes to my hair and diet. I have tried other leave-ins but this has been the best for my hair.  For me, this product does everything that it claims. My hair can literally be as dry as the deserts sand, and I can spray this on my hair (and I mean just this leave in) and my hair instantly comes to life. You ever put water on dry skin only for the skin to ash up worse……that my hair. If I spritz my hair with water for hydration, my hair just sucks it up and is begging for more. Its dryer than it started off. Now if I spray my hair with this product, my hair feels sooo soft and manageable.  If  I could only have 2 things in my hair regime it would be this and some shea butter.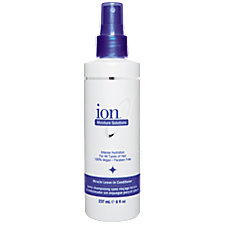 Depending on the state of my hair, kindda depicts how I use this leave in. If my hair is super parched I'll use it out of the bottle, but if my hair just need a little refresher, I'll dilute it with water (since I cant use water alone). This liquid is a tid bit thick, think a water downed hair gel, but sprays really nicely out of the bottle.  Pretty much anytime I would use water (aside from washing my hair) I would use this leave-in. It's also affordable, so when I get spray happy, I'm not hurting my pockets too bad.  If I can find a cleaner(natural) leave in spray the measure close to this, I'd trade this up. But, when my hair was majorly damaged from coloring, stress and simply not properly caring for my hair this and Ion Effective Care Treatment instantly help repair my hair. I've removed myself from Ion Effective Care Treatment a bit, now that my hair is in a better place. But this right here has a hold on my heart lol.
I purchased from Sally Beauty Supply Store for $7.99
Product Claims :
Hydrates
Detangles
Eliminates frizz
Adds shine
Ion Miracle Leave-in Conditioner is great for all types of hair – normal or dry, curly or straight, damaged or healthy, and even chemically or color-treated hair. Hydrates and detangles while it eliminates frizz and increases manageability. Helps to prevent split ends and stops breakage. Protects from heat and environmental damage.
 Ion Miracle Leave-in Conditioner is 100% Vegan and is paraben free.
WATER ,CETEARYL ALCOHOL ,BEHENTRIMONIUM CHLORIDE ,PROPYLENE GLYCOL ,CYCLOPENTASILOXANE ,FRAGRANCE ,ISOPROPYL ALCOHOL ,DMDM HYDANTOIN ,QUATERNIUM-80 ,TOCOPHERYL ACETATE ,PANTHENOL ,HYDROLYZED SOY PROTEIN ,METHYLCHLOROISOTHIAZOLINONE ,METHYLISOTHIAZOLINONE ,TRIETHANOLAMINE ,DISODIUM EDTA ,BENZYL BENZOATE ,LIMONENE